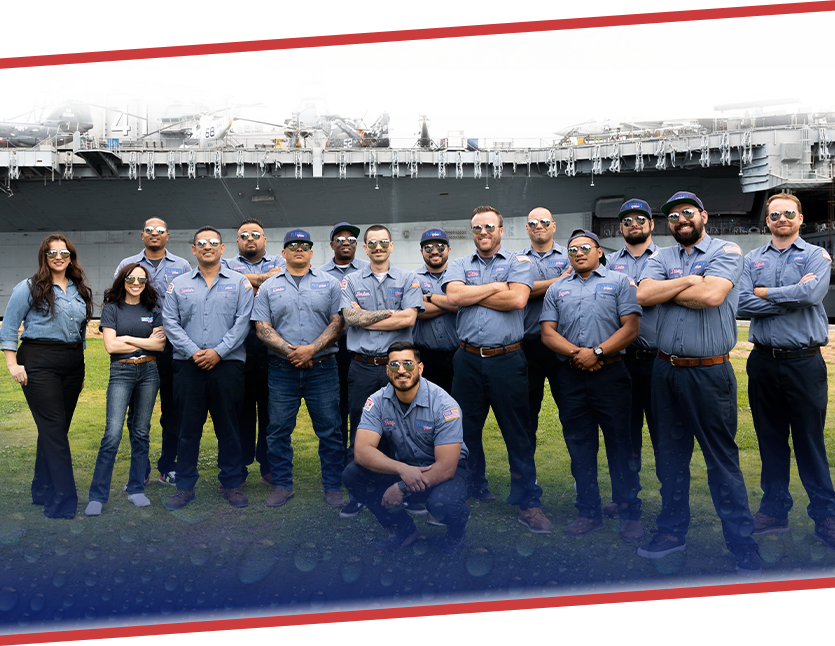 Join the Plumbing Plus Family
Learn More about How You Can Help Us Deliver Outstanding Service in San Diego County
Are you a professional plumber looking for a career with a leading company in the industry? Are you interested in providing exceptional services to your friends and neighbors throughout the local area? Plumbing Plus is a well-respected company dedicated to creating customers for life. We offer the opportunity for a rewarding career with our friendly staff.
To learn more, call us at 858-260-3140 or apply online today!
Join the Plumbing Plus Crew!
Our boutique plumbing company provides a 5 Star experience tailored to our customers as well as our employees. We are top performers in our field and are recognized for being the best in San Diego County. The people we touch should know and feel what it's like to be part of something they can be proud of. Plumbing Plus represents what it means to serve our community with integrity and purpose. Each day poses new challenges and inspires new dreams, but no matter what the day throws at us we will execute each obstacle with positivity and discipline. Plumbing Plus strives to make a tangible and true impact on the lives of our employees, their families, our customers, and the community. We measure our success based on our ability to create meaningful relationships that have a lasting impact on the lives of our cherished employees and their families while providing exceptional, custom-tailored plumbing services to San Diego County.
What makes Plumbing Plus a great place to work? – The People!
We truly care about each other and work together to ensure the success of each teammate. We offer lots of benefits including, medical, dental, life, Aflac, vacation and sick time, 401K, ongoing training, and education just to name a few. The snack bar, trucks, and warehouse are fully stocked, to ensure a successful day. We are goal driven and expect each employee to do their best each day. Plumbing plus only hires the best! Do you have what it takes? Show us what you can bring to the team, apply now!
Here are just a few of the qualities we are looking for in our team members:
- Positive attitude Dedicated to providing a 5 Star Experience to every customer
- Willingness to learn and develop new skills
- Exemplifies our core values: integrity, discipline, authenticity, education, and confidence.
- Strong Communication skills
- Strong Work Ethic
- Goal Oriented and Driven

Call or Visit
Phone:

Email:

Hours:
7:30 a.m. to 5 p.m. Monday thru Friday
Open 24 hours Saturday and Sunday
Address:
12147 Kirkham Rd STE A,
Poway, CA 92064