San Diego County Drain Services
San Diego County Drain Repair & Replacement Plumbers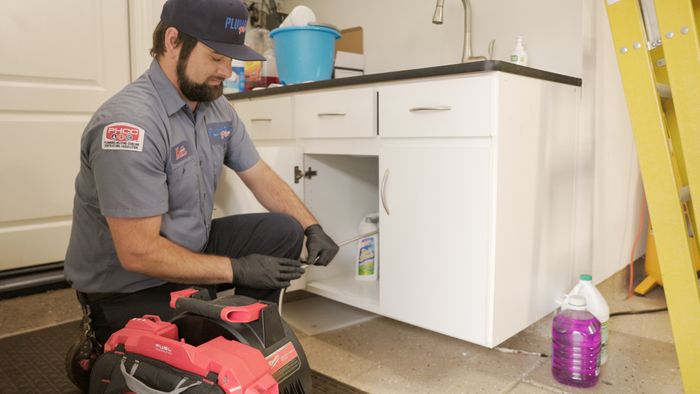 Plumbing Plus Can Help with Stubborn Drains
Chronically slow or clogged drains are frustrating. Drains can be challenging to clean, and the drain cleaning products you buy at the store often end up damaging your pipes. When you choose Plumbing Plus, you get drain repair plumbers who have decades of experience handling all types of drain problems. From cleaning to repair to replacement, we can diagnose your issue and provide you with all of your repair options. We are proud to bring 5-star plumbing repair services to all of our residential and commercial clients in San Diego County.
Finding a plumber you can trust doesn't have to be a draining experience. Call Plumbing Plus at 858-260-3140.
Our Plumbers Can't Wait to Help You!
The team of friendly and skilled professionals at Plumbing Plus is ready to help you with whatever plumbing problem that may occur in your home. As a family-owned business, we understand your need for fast, reliable solutions, especially when the plumbing issue is disrupting your family's routine. You can count on our well-trained plumbers to always arrive on time and in a fully stocked truck. We also provide upfront pricing, so there is never any confusion.
Why Choose Us?
The Plumbing Plus Difference

We strive to put a smile on every customers' face and provide 5 star service.

24/7 Emergency Services
We know that emergencies happen which is why we are available when you need us.

Personalized Service
We provide a boutique, personalized experience to every customer.

Utilize Advanced Technology
We use the latest systems and technology to make every job run smoothly.

Strong Reputation
We have a good reputation for being available and reliable.

Established Business
We have been serving San Diego since 1984, with quality plumbing services.
Signs You Need Drain Cleaning
It can be hard to know when to call a professional plumber to help with a drain issue. While a slow drain may seem easily fixed, your problem may be more extensive than it appears on the surface. When in doubt, it's a good idea to call a plumber you can trust, like those at Plumbing Plus. An experienced plumber will be able to determine the cause of your issue and help you solve your problem effectively.
Symptoms of a drain issue may include:
Slow Moving Drains - If you notice that your bathtub or your sink is draining slowly it could be that you have a clog in your drain somewhere. Whether it's food, grease or hair it can gather in the pipes and cause blockage, which means your water is going to have a harder time passing through the piping. Contact us today for expert drain cleaning services.
Chronic Drain Back-ups or Clogs - When your kitchen sink clogged last week, you thought that you pouring draino down it would help. But, here you are again with a clogged sink. If your drain is constantly clogging or backing up frequently, it could be that your drainage system has a serious drain blockage and a simple fix won't do the trick. Give us a call for professional drain cleaning.
Bad Odors Coming From Your Pipes - When you walk into your home, the last thing you want to be greeted with is the smell of something foul in your home. If you have lit candles and used air freshener and the smell still persists, it could be time to check out your drain. Often times this foul stench can be caused by severely clogged drains.
Making drain cleaning part of your maintenance routine can help keep your drains running smoothly. Drain cleaning removes scale build-up from hard water, grease, and other types of build-up from household products, and it can remove root intrusion from exterior trees and plants. This kind of routine maintenance can also help you catch and repair small issues before they escalate, such as drain line stoppages. Making these minor repairs is a cost-effective way to extend the life of your plumbing system. Give us a call if you have any emergency repairs you need as well!
We Can Handle Any Drain Line Replacement Job
The drain plumbers at Plumbing Plus in San Diego County have years of experience handling both residential and commercial drain repair jobs. We have the knowledge and resources to handle any issue. From kitchen sinks and laundry drains to shower drains and toilets, we have seen it all. If you have a drain line breakage, no matter the time of day or night, call us for emergency plumbers who can help. Read our 5 star reviews and see what everyone is saying!
Is your drain line damaged or in need of repair? Call Plumbing Plus for drain repair: 858-260-3140.
"Christina called me within 15 minutes of my Yelp request. She was very pleasant to speak with and seemed genuinely concerned regarding my problem. Additionally, she stated that they could respond the same day (with a slightly higher call-out charge). Solely based on her excellent customer service, I regret not enlisting their help."
- Mark V.