San Diego County Garbage Disposals
San Diego County Garbage Disposal Repair & Installation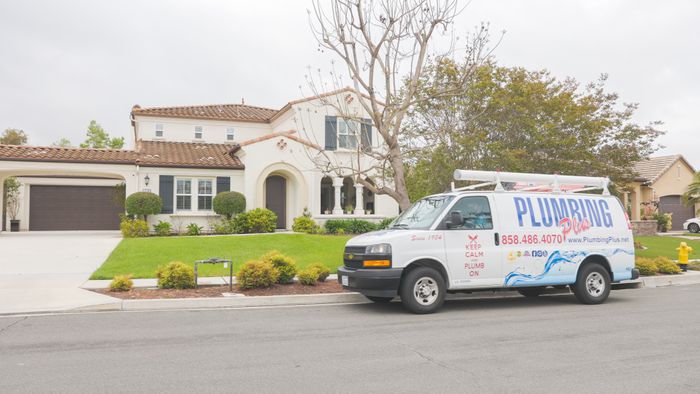 Offering Top-Notch Kitchen Plumbing Services
Garbage disposals are an innovation that has completely changed the way people dispose of food in their kitchens. Not only are they convenient but they also eliminate garbage odors and gnats. Garbage disposals serve many functions, like helping your sink drain properly and preventing clogs in the drain line. Many apartment buildings and homes in San Diego County and the surrounding areas were built long before garbage disposals were considered a kitchen necessity. Fortunately, we have skilled technicians who know how to perform proper disposal installations.
With One Of Our Top-Quality Garabage Disposal Installations, You Can Help To:
Minimize clogging
Properly drain your sink
Create a healthier living space
And if your garbage disposal goes on the fritz, Plumbing Plus can also provide you with reliable repairs.
For professional garbage disposal repairs and installations, get in touch with us at 858-260-3140.
Reducing The Need For Repairs
In order to reduce the need for repairs, it's important to note the list of items that cannot be put into the disposal. By taking these measures, you can extend the lifespan of your disposal and prevent it from malfunctioning.
Some Of These Non-Disposable Items Include:
Grease, fats, and oils
Hard food items such as large bones
Fibrous foods such as celery, lettuce, corn husks, and more
Food items that swell with water such as pasta, rice, and beans
Non-food items
Why Choose Us?
The Plumbing Plus Difference

We strive to put a smile on every customers' face and provide 5 star service.

24/7 Emergency Services
We know that emergencies happen which is why we are available when you need us.

Personalized Service
We provide a boutique, personalized experience to every customer.

Utilize Advanced Technology
We use the latest systems and technology to make every job run smoothly.

Strong Reputation
We have a good reputation for being available and reliable.

Established Business
We have been serving San Diego since 1984, with quality plumbing services.
Committed To You
As a family-owned company, we strive to create lasting relationships with our customers by always being upfront and providing them with the best service possible. Our plumbing technicians have been trained on all of the latest techniques for installation and repair in the industry and know how to resolve virtually any problem that you're facing.
Reach out to Plumbing Plus to schedule garbage disposal services in San Diego County, or nearby. Dial (858) 260-3140 or submit an online contact form.
Repair vs. Replacement
The plumbers at Plumbing Plus are experts in fixing malfunctioning garbage disposals. Whether your unit has jammed, clogged, or overheated, you can count on us to get it running again in no time. However, there are times when replacing the disposal is a more practical solution.
You May Need To Replace Your Disposal If:
Persistent Odors -

Garbage disposals can produce some really unpleasant odors. With most of these smells, you can drop orange peels, ice cubes or even soap and water down the disposal to help clean and freshen up that smell. If the smell persists, i could be something trapped in the pipes and in need of a professional garbage disposal repair technician.

It doesn't turn on (and you have already tried to reset it) -

When your garbage disposal won't turn on it could be a serious problem with the disposal itself. If it still isn't working even after pressing the reset button, it could be your circuit breaker. If it still isn't working, it's possible you need garbage disposal repair.

It makes loud humming sounds even when not grinding -

Odd noises while your disposal is running could be something as simple as a piece of silverware that accidentally fell down into the garbage disposal. If it is obvious that there is no silverware or anything blocking the disposal, you should give us a call to come and see what the problem is.
Continuously calling for repairs adds up and may cost you half as much as new garbage disposal. When in doubt, our plumbers can diagnose whether the damage is still repairable or if it's time for a replacement.
"We have had Isaiah out twice now to help us in our house. Both times he has been extremely helpful and knowledgeable. He is a wealth of knowledge about all aspects of plumbing and is able to identify and solve the problem in a professional manner very quickly. He is extremely competent and courteous. I don't think you'll find a better plumber out there and I highly recommend him and Plumbing Plus to anyone in need of a plumber."
Johanna C.