San Diego County Water Line Services
San Diego County Water Line Services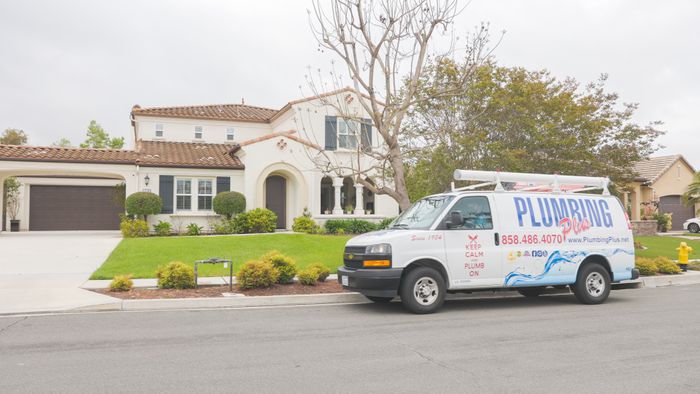 5-Star Plumbing Services in San Diego
When it comes to your plumbing system, your water line is one of the most important components; it is how water from the public supply flows into your home. Therefore, when something happens to your main water line, your entire home's water supply is affected. If you have a noticeable leak, a lack of water, or you're experiencing frequent problems with your plumbing system, it's time you call one of our experienced plumbers at Plumbing Plus for comprehensive water line services in San Diego County When you hire us, we will arrive at your property on-time, provide you with a thorough inspection, walk you through our diagnosis, and let you know the cost of any service you need upfront.
To get started, call 858-260-3140 or contact us online to schedule an appointment. We'll get your water running again in no time.
Common Signs of Water Line Issues
Because of its location under the ground around the perimeter of your home, it's often difficult to immediately tell there's a problem with it. Fortunately, there are other symptoms of a problem that help indicate it's time to call a professional plumber for assistance.
Common signs of water line issues include:
Unexplained puddles in your yard
Pools of water on the floor
Damp carpets
Mold and mildew growth
Surge in your water bills despite no change in water usage
Sudden increases in water bills
Rusty colored water
Diagnosing the Problem
One quick and easy way to tell that something is amiss with your water line, especially whether you have a leak or not, is to use your water meter. First, completely shut off the main water line and note the meter reading. If the meter continues to change, there is a good chance that you have a leak somewhere in the line. At Plumbing Plus, we use industry-leading technology and equipment that will enable us to quickly locate the precise location of the leak or break within your water line. Once we've located the issue, we'll be able to recommend whether it can be repaired or whether you need your water line replaced.
Why Choose Us?
The Plumbing Plus Difference

We strive to put a smile on every customers' face and provide 5 star service.

24/7 Emergency Services
We know that emergencies happen which is why we are available when you need us.

Personalized Service
We provide a boutique, personalized experience to every customer.

Utilize Advanced Technology
We use the latest systems and technology to make every job run smoothly.

Strong Reputation
We have a good reputation for being available and reliable.

Established Business
We have been serving San Diego since 1984, with quality plumbing services.
What Causes Water Line Leaks or Breaks?
We rely on our water lines on a daily basis. We shower, wash dishes, do laundry, have our sprinklers go off, flush the toilet, and more. Due to the frequent use, wear and tear occurs and your water line might need a little TLC from time to time.
Frequent use can result in the following water line problems:
Corrosion: Although it happens more frequently in older homes, corrosion occurs due to frequent water flow. As your water line becomes corroded, it can easily lead to leaks and clogs.
Mineral build-up: Because the water from the public supply isn't completely filtered or treated, it still contains minerals that can build up over time. As the build-up slowly forms into a clog, your water pressure will decrease until it completely stops.
Contact Us for Emergency Services
In the event you do have a water line break or leak, it could cause serious property damage. Therefore, it's important that you call Plumbing Plus the instant you suspect an issue. Regardless of the time of day or night, we are your trusted plumbers for water line services in San Diego County. We will arrive with fully stocked trucks and high-quality equipment to ensure affordable, efficient, and lasting repairs or replacements.
We've been assisting customers since 1984. Call us now at (858) 260-3140 to experience the Plumbing Plus difference!
"Had a water leak issue and everybody from the dispatcher to the serviceman was extremely knowledgeable and very professional. A phenomenal team that worked with me from beginning to end. Highly recommend Plumbing Plus. Also important: open on the weekend to sort out emergencies. Yay!!"
Kevin H.