San Diego County Water Heater Installation & Replacement
San Diego County Water Heater Installation & Replacement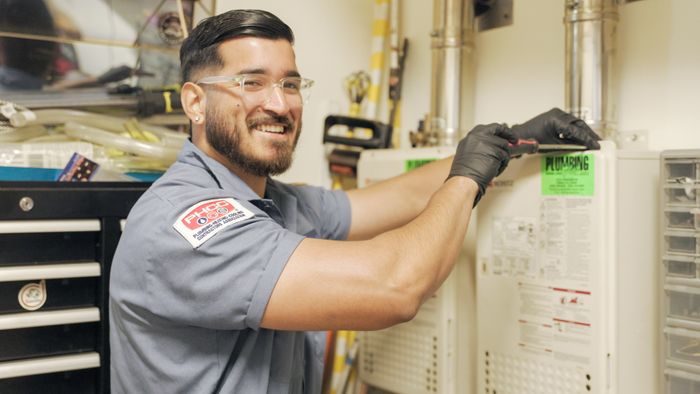 Keeping Your Home Supplied with Hot Water
Your water heater ensures you've got hot water when you need it. It can be a headache and inconvenience if the unit starts acting up. If you need your water heater replaced, turn to Plumbing Plus for assistance. This is not a job for DIYers, as the heater must be put in correctly to ensure that it works right and does not pose any safety risks.
At Plumbing Plus, we have over 35 years of experience helping customers with their plumbing needs. Our water heater installation and replacement professionals in San Diego County have the skills and knowledge to get your new machine up and running as quickly as possible. When we take on a job, we work with precision and care to ensure the project is done correctly and on time.
To schedule a water heater installation service in San Diego County, please contact us at (858) 260-3140 today.
Signs You Need a New Water Heater
Water heaters can last for around 10 years. Over time and after continual use, they can start showing problems. Sometimes a repair can take care of the issues. But other times, it's necessary to completely replace the unit.
Indicators of a malfunctioning water heater include:
Discolored water: There may be a problem with the machine if your water is cloudy or rust-colored.
No hot water: A broken water heater will take longer to get your water hot. You might also notice the hot water from your faucets getting colder faster.
Weird sounds: The various components that make up your water heater could become damaged after a while, causing strange noises.
Why Choose Us?
The Plumbing Plus Difference

We strive to put a smile on every customers' face and provide 5 star service.

24/7 Emergency Services
We know that emergencies happen which is why we are available when you need us.

Personalized Service
We provide a boutique, personalized experience to every customer.

Utilize Advanced Technology
We use the latest systems and technology to make every job run smoothly.

Strong Reputation
We have a good reputation for being available and reliable.

Established Business
We have been serving San Diego since 1984, with quality plumbing services.
Do You Need a Professional to Install Your Water Heater?
Installing or replacing a water heater can be a complicated job. You may need special tools and adhesives to ensure everything is connected properly. You'll also need to make sure that the pipes are routed correctly. If the unit isn't put in right, it may function poorly, cause damage to your property, or create a safety hazard.

Allow our professionals to help with installing or replacing your water heater. We can handle any make and model. Our team follows codes and regulations when completing a job, ensuring that everything is done right.

Additionally, our technicians can assist in choosing a water heater for your home. We can assess your property and needs and review your options.
What's the Cost of Installing or Replacing a Water Heater?
The price for putting in a new water heater will vary.
Several factors affect the cost, including the following:
Unit size
Existing plumbing fittings
Materials needed
Job complexity
At Plumbing Plus, we recognize that a new water heater can be a big investment. That is why we provide upfront pricing, preventing any surprises after the work is completed. We also offer coupons and flexible payment options to make things easier on the wallet.
If you need a water heater installed or replaced, please call our team at (858) 260-3140 or contact us online today.
"The technician Robert was very polite and respectful. He wore a mask the whole time, booties in the house, and put down protective covers on the floors. He provided an estimate and talked through the details of his recommendation for the problem."
- Deb M.